Updated: 17 hours ago
This year has been difficult and strange for everyone, but for me, it's also been a year of immense growth and success. Usually I'd be galavanting around the globe, but being forced to stay put has let me focus on developing my skills, creativity and upgrading my equipment. I don't know how you let me get away with filming on a webcam for so long! Fortunately for you, you get to worship me in crispy HD now!
To celebrate the 145 clips I released this year, including dozens of customs, I've compiled a list of my top 20 clips of 2020. They're my favourites for a variety of reasons: the aesthetics, their popularity, my favourite kink categories, or simply because I worked long and hard to bring them to fruition! Many of these are customs, which goes to show how much I love collaborating with you guys and how much my army love sharing ideas and fantasies with each other too! Keep reading to find out if your favourite clips made my top list...
20. OBEY The Queen JOI Card Game
I'm starting with one of my first clips of 2020 and one of my first forays into creative clips. I really love the concept of the colour changing outfits following the suits of the cards. I look incredible with that red lip. Lingerie connoisseurs may also notice that my costumes alternate between Agent Provocateur and Bordelle. There's a little luxurious trivia for you. I filmed this clip in Berlin, and spent all day editing it in a cute cafe, subtly hoping to attract the attention of the hot barista. If you love JOI games with more flavour than simply to "last til the end", this one is for you! But be prepared for a devilish twist at the finale!
https://iwantclips.com/store/174442/Eva-de-Vil/2032656
19. Lick Up Your Precum
This one made the list for its popularity and as a little tribute to my old bedroom. I wasn't expecting this clip to pop off so much but you guys are total cum sluts so I really shouldn't be surprised! This is probably a great bridge clip for if you're not ready to eat a whole load and love to follow orders in the throws of arousal.
https://iwantclips.com/store/174442/Eva-de-Vil/1991468
18. Obedience Training - One Simple Instruction
I included this clip because I filmed it with one of my closest and dearest slaves, who kindly offered his balls and body for my exploitation. It's a delightful depiction of our relationship and I love to see him squirming in frustration as I tease him. If you aspire to serve me in person one day, check out my clips with Slave Larry for a taste of my demeanour in session.
The trailer is too explicit to post here!
https://iwantclips.com/store/174442/Eva-de-Vil/2024134
17. More Moaning in Yoga Pants
After the enormous success of last year's Moaning in Yoga Pants, I came out with a sequel which, predictably, you loved just as much! I know you adore hearing my pleasure so I'm always slipping little moans into my clips now to make you crazier for me.
https://iwantclips.com/store/174442/Eva-de-Vil/2091696
16. Am I Doing Positive Femdom Right?
Those of you tapped into femdom twitter may remember the stir the "Positive Femdom" category caused when it was introduced by iWantClips. The category describes a tone that is sensual and encouraging, absent of cruelty and harsh humiliation, though the push back was in the implication that the opposite of positive femdom is negative femdom, and we know that it can actually be extremely empowering and uplifting for our slaves when we destroy them. Do you recall the days at the beginning where I used to be quite nasty, calling my slaves disgusting and worthless? I've certainly mellowed down my temperament as I've gotten more comfortable in my quiet and sensual style of domination. This clip was a playful response to this new category though I think it perfectly typifies my style as a domme. Gentle teasing about what a weak, horny mess you are for me: "when Goddess says it with a smile, in her honeyed voice, "pathetic" starts to sound like a good thing."
https://iwantclips.com/store/174442/Eva-de-Vil/2089070
15. DON'T CUM Endurance Training
This clip is a delicious mind fuck clad in latex. I came up with this temptatious idea to whisper contrary instructions in your ears as you're tasked with the order of not cumming. I try my best to break you, mirroring your desperation and desire to give in with the sensually frantic backing audio, moaning and begging. This clip was a big hit! Look out for more endurance training like this in 2021.
https://iwantclips.com/store/174442/Eva-de-Vil/2024893
14. Pulling the Life Out of You
I'm honestly really surprised at how well this clip sold, since I priced it at $59.99 to deter you from buying it! But you were not to be deterred! While I'm certainly in a femme fatale role (as I end up being the death of you), I didn't think you deserved to experience my seduction and a steamy simulated blowjob and anal sex with me for cheap.
https://www.clips4sale.com/studio/122965/23172461/pulling-the-life-out-of-you
13. The Ultimate Luxury
I adore this clip. It oozes sensuality and glamour. It has undertones of financial domination, though I mostly affirm my superiority as an addictive luxury in your life, commanding you to prove your worth to me as a slave. "It's a man's place to impress, to worship, to give." I loved the music from this clip so much that I ended up using it in all my clip intros. I love it when my creative clips sell, so buying them is a sure way to please me.
https://iwantclips.com/store/174442/Eva-de-Vil/2071224
12. Cum Offering for Latex Goddess
This is the first custom entry on the list! Isn't this outfit amazing? A pearlescent lilac and milk white latex nun costume! What a dream! I have a creative clip in the works with this outfit for 2021. Watch this space! (Edit: that clip was PURE TEMPTATION, a 2022 favourite)
https://iwantclips.com/store/174442/Eva-de-Vil/2143318
11. The Taste of Submission
This has been one of the best selling clips of the year and it finishes 2020 as my third highest selling clip ever! It's not hard to see why. You guys like it so simple sometimes: skimpy bikini, baby oil and CEI. *Adds to basket*
https://iwantclips.com/store/174442/Eva-de-Vil/2080894
10. Shhh! You Might Ruin It!
Remember that quiet and sensual style I told you about? This clip is exactly that. Very quiet! I whisper throughout, making you listen very closely as you stroke, tied to the opposite end of your bed. As I crescendo into loud moans of pleasure at the climax, you're forced to choose between ruining an orgasm and reaching for the volume, or having a satisfying orgasm and risking being discovered. This brilliant idea was a custom request and it shot straight into my best selling list. It's currently my fourth highest sold clip!
https://iwantclips.com/store/174442/Eva-de-Vil/2165418
9. Happy Blue Year! A and B
This diabolic duo was my last release of 2020. It's the finale of a series of customs starting from Locktober, featuring a combination of my favourite kinks: denial, chastity and edging. After 3 long months of denial, New Year's Eve is your chance to finally cum and you're utterly desperate… but did you choose the right clip? I leave you hanging on til the very last moment to find out if you've chosen denial or permission to cum. I love that it's a surprise and I've felt such a wicked delight watching so many boys unwittingly buying the denial clip since it's the more tempting of the two… falling right into my trap! I love the Bordelle dress in the first half and the creative lighting in the second. This clip is a rare treat with full nudity! But don't get your hopes up too much; you don't get to see any more than you deserve!
https://iwantclips.com/store/174442/Eva-de-Vil/3677214/Happy-Blue-Year-A-Re-Release
https://iwantclips.com/store/174442/Eva-de-Vil/3677898/Happy-Blue-Year-B-Re-Release
8. Get Lit and Submit
The pink curtain and magenta lingerie combination in this clip are just divine! I love that marijuanna is becoming more acceptable in society and to see that you like using it to enhance your enjoyment of my clips, to sink deeper into the goonhole. Watch it on repeat and get stupid for me. This clip was extremely popular so I'll be sure to make some more 420 clips next year! (EDIT: Unfortunately, intox clips have been banned so this clip is no longer available)
7. Wank It, Lick It
This is another custom creation that's been super popular! The good boy who ordered this one is such a little addict; he's requested 3 since then! They follow the same formula: tits, dildo stroking, sensual humiliation and CEI so I know you're gonna enjoy them just as much. The lighting and colours in this clip are so warm and creamy!
https://iwantclips.com/store/174442/Eva-de-Vil/2221376
6. Red Rum
I made this clip about a month into lockdown, loosely inspired by The Shining since we were all starting to go a little bit crazy in confinement! See if you can spot a couple of the movie quotes I planted in there! I love the red and blue colour palette of this clip, the wicked energy, the jazzy edging climaxes and the glitchy transitions. I'm really pleased with how quickly I've been able to start making polished creative clips, even if they take me forever to edit and experiment with, but I owe a lot to the talented ladies in the industry for teaching and inspiring me. I want to make more like this and even better in 2021!
https://www.clips4sale.com/studio/122965/23222039/red-rum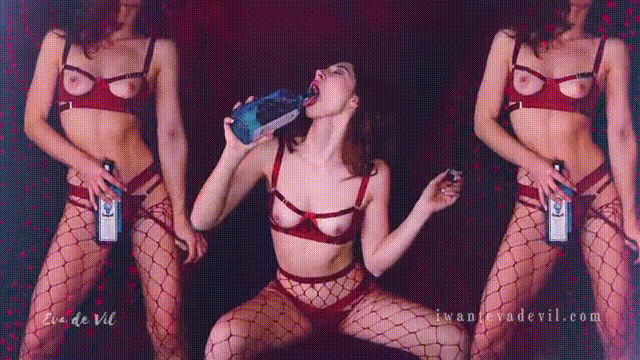 5. Fembot Supremacy
I had the opportunity to film a greenscreen clip so this is what I came out with! I had a videography friend help me set it up so I'm certainly not ready to make greenscreen a regular part of my clip creation but I'm really pleased with how this one turned out. This one is a little more uplifting than its dark sequel and focuses on inducing a meditative trance in which I can brainwash you to obey the fembot regime and order you into chastity.
https://iwantclips.com/store/174442/Eva-de-Vil/2096983
4. Bust the Rebellion: Fembot Supremacy 2
The sequel for Fembot Supremacy was a custom request from a sub who I've become very close with this year. He didn't ask me to make it elaborate but I really wanted to, and I'm thankful that he patiently waited for me to finish it. I love the depth of the audio in this clip and the intense visual brainwashing. It might be a little niche, strongly featuring ballbusting and ending with a ruined orgasm, but if you love mind fuck or humiliation, you should definitely get this clip!
https://iwantclips.com/store/174442/Eva-de-Vil/2246788
3. An Agonizingly Slow Countdown
After Countdowns was so popular, I now use them a lot in my clips and skypes. I find they trigger such a state of arousal in you, signalling to your body that it's nearly time to cum, even if I cruelly snatch that ending away from you sometimes! This clip is filmed at an interesting angle and we love the bush that's peeking from behind those transparent AP panties! This is a huge sensual favourite!
https://iwantclips.com/store/174442/Eva-de-Vil/2183800
2. Sensual Stroke Slave Initiation
What a hot clip! An erotic strip and oil tease with one rule: don't cum til the end. This is the longest clip in my library at 46 minutes with a $98.99 price tag, but still, so many of you bought it to try this challenge for yourselves and enjoy gooning for my perfect, naked body. The sequel challenge to this clip "Resistance Training" is out on January 1st, another 45 minute edging fest!
https://iwantclips.com/store/174442/Eva-de-Vil/2566159
1. Denim Fetish Propaganda
The other clips in this list are loosely ordered but DFP is definitely #1! It was a bit of a wild card but when the sub came to me with this custom request, I was really inspired and excited to work on it. The concept is so special yet current, in an age of influencers. I'm doing a youtube try on haul but these unskippable ads begin to roll, growing increasingly intense and sexual until it becomes clear that you're being brainwashed to have a denim fetish. Denim is such a sexy yet innocuous and everyday material, and apparently so many of you have a real underlying lust for it (or for me, a hot girl in a tight pair of jeans!) I spent days on this clip, planning out the different ads and angles, filming it in nearly 40 pieces, fitting it all together and recording the tantalizing binaural audio. You need this clip in your library! It's been massively successful and I've had so much great feedback for it. We need yoga pants propaganda next!
https://iwantclips.com/store/174442/Eva-de-Vil/2193633
I hope you enjoyed reading about my favourite clips of 2020. I love making clips so much and this inspiration and opportunity to create and improve has really kept me going through this awful year.
Comment your favourite below if I missed it! Go and add all these clips to your cart if you don't have them already! If you're interested in ordering your own custom from me, head over to my custom feature on iWantEvaDeVil.com. Keep in mind that the price fluctuates because sometimes I need to control the number of orders I'm getting, so keep checking back if it's out of your price range right now! Happy New Year everyone!